Developing optimal thermoelectric materials
Molecular electronics has raised increasing interest in recent years, in particular the use of molecules as nano-electrical components for electronic, photovoltaic and thermoelectric devices. With her ERC Starting grant, Dr Gemma Solomon studies how molecules carrying current heat up and cool down, potentially paving the way to new frontiers in power-generating materials.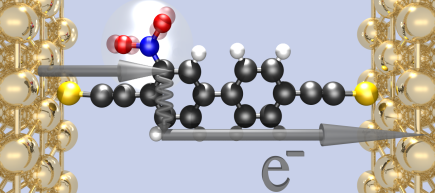 Photo credit
Portrait: © Dr Gemma Solomon | Illustration: A schematic view of inelastic scattering in a molecular junction, an electron loses energy and heats the system while exciting a vibrational mode of the molecule, © Dr Gemma Solomon
For the last twenty years, scientists have been studying the way the molecules behave when an electrical current flows through them. At the crossroad of physics, chemistry and electrical engineering, Dr. Solomon's project goes a step further focusing on the response of molecules during the heating and cooling that accompanies this current flow. "We are exploring how the molecular properties change during these two processes. If we understand how they heat up and then dissipate the heat to the environment, we can control their properties and optimise their electrical function."
After nearly three years of research, Dr. Solomon's team, based at the Nano-Science Center and the Department of Chemistry of the University of Copenhagen, are enjoying tackling some of the exciting questions for the project. "When current passes through a molecule, it will usually heat the system, just as an incandescent light bulb or electrical wiring can get hot while current flows. The beauty of molecules is that we can carefully control their nature and try to design systems that aren't heated or actually cool down while the current is passing through them. Understanding these mechanisms could shed some light on the relationship between heating and conductivity and could lead, in the long term, to high-performing power-generating materials."
Thermoelectric materials have been used since years to generate power but they are made of metals whose availability is limited and their cost is not competitive. The challenge today is to cut down their production cost, increase their efficiency and limit their impact on the environment, for instance by employing earth-abundant elements like oxygen, hydrogen and carbon. "With new thermoelectric materials, we can imagine using the waste heat generated by an industrial process to produce power, so the heat would not be lost anymore and the environmental burden would be reduced."
Receiving the ERC grant was a turning point in the career of the young Australian chemist: she moved to Europe and established herself as an independent scientist, running her own research group. "After my post-doc, I had many ideas of what I wanted to do and thanks to the ERC funding I can keep flying on these ideas. It is an incredible privilege nowadays to do what you really like and choose what you want to work on, so for me this was a fantastic opportunity. But I am also aware that this privilege comes with responsibility: I am benefiting from public funding and most certainly have a duty to give something back to society with my work".
Talking about the advantages of doing research in Europe, the ERC grantee who has previously worked in Australia and in the US, says: "Australia is a beautiful country but relatively isolated. From Denmark I can go to Berlin or Rome on a day trip if I need to meet my collaborators. Thanks to the European funds for research, scientists here have good opportunities to interact and build links with their colleagues all around Europe. My team is also truly international, an environment I find very stimulating".
According to Dr. Solomon, being a researcher in Europe has also an added value on a personal ground: "Here I feel that I can have a family life and a very active career at the same time. Europe is very progressive in supporting working women and families. In Denmark people have great child care facilities, different maternity/paternity leave options and flexible working time for both parents."
About twenty Australian researchers have been selected for ERC funding to date. Being one of the few, she comments: "It's hard to apply for an ERC grant while you are sitting on the other side of the world. I had to make contacts with the hosting university in Copenhagen from abroad and this was not always easy. But I strongly encourage other Australian scientists to apply. An ERC grant is incredibly prestigious. The opportunities you get are so significant, particularly at the early stages of your career".  
Project information
Chemical Control of Heating and Cooling in Molecular Junctions: Optimizing Function and Stability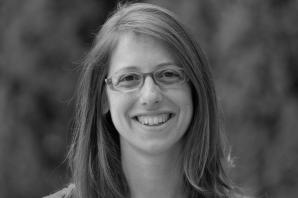 Researcher:
Gemma Solomon
Host institution:
University of Copenhagen
,
Call details
ERC funding
1 499 999 €