ERC Starting Grants: €605 million to 406 top researchers across Europe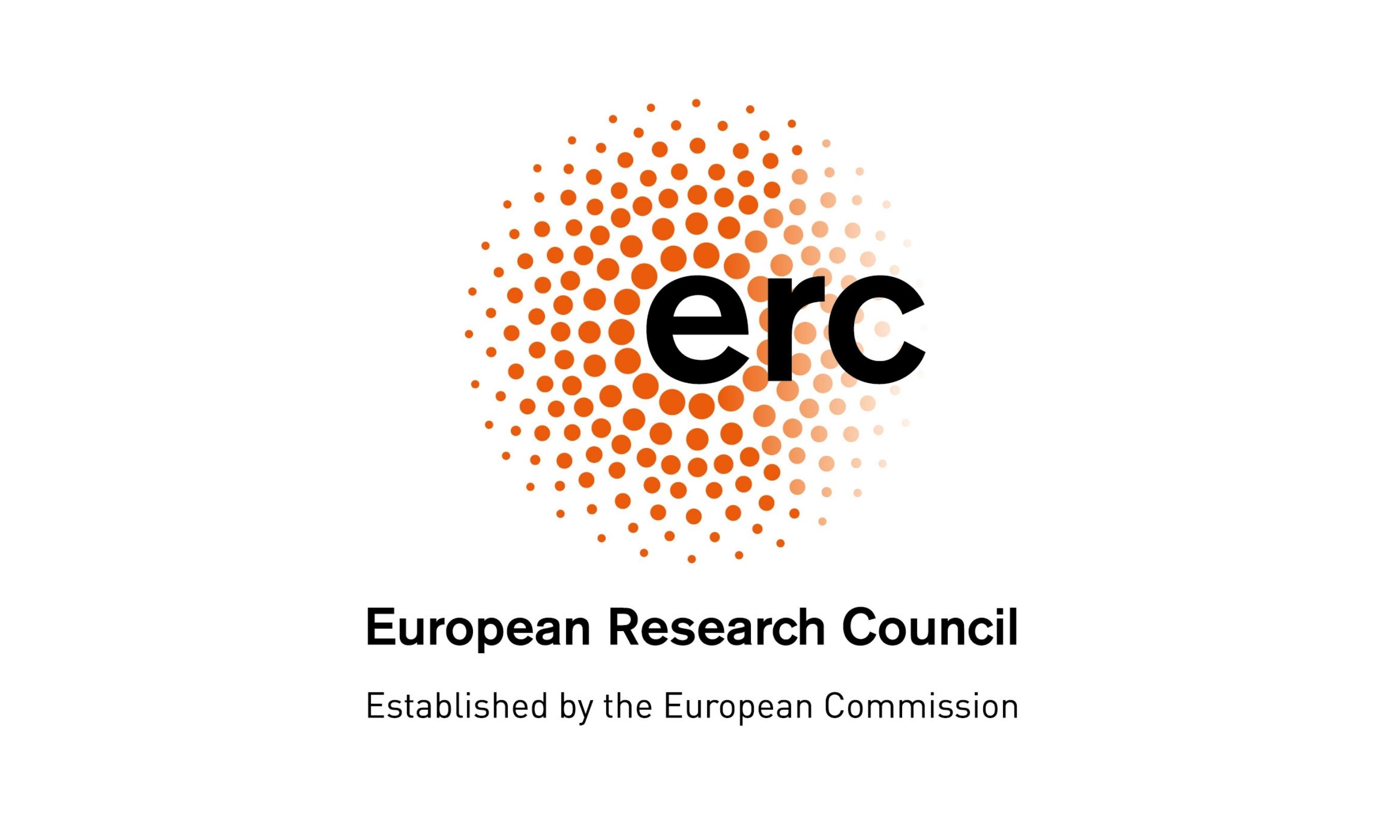 The new grantees will work on a wide range of topics; from health research on chronic infections or asthma, to disaster management, network security, and climate change. The funded research covers all disciplines: physical sciences and engineering, life sciences, and social science and humanities. See more examples of funded research.
The grants are awarded under the 'excellent science' pillar of Horizon 2020, the EU's research and innovation programme.
On this occasion, Carlos Moedas, European Commissioner for Research, Science and Innovation, said: "Top talent needs good conditions at the right time to thrive. The EU provides the best possible conditions at the early stages of a researcher's career through the ERC Starting Grants. That's why this funding is so crucial for the future of Europe as science hub: it keeps and attracts young talent.  This time the ERC attracted researchers of 48 different nationalities based in 23 European countries. It's an investment that will pay off, boosting the EU's growth and innovation."
The President of the ERC, Professor Jean-Pierre Bourguignon, said: "I'm delighted that the 2017 ERC Starting Grant call has attracted more women researchers than ever. Even better, four out of ten of the grant winners are women – also a record since the ERC's launch. I hope the persistent work of the ERC Scientific Council and its Working Group on Gender Balance has contributed to this positive evolution. I am confident that this bodes well for the future of science in Europe – we need to capitalise on all talent available."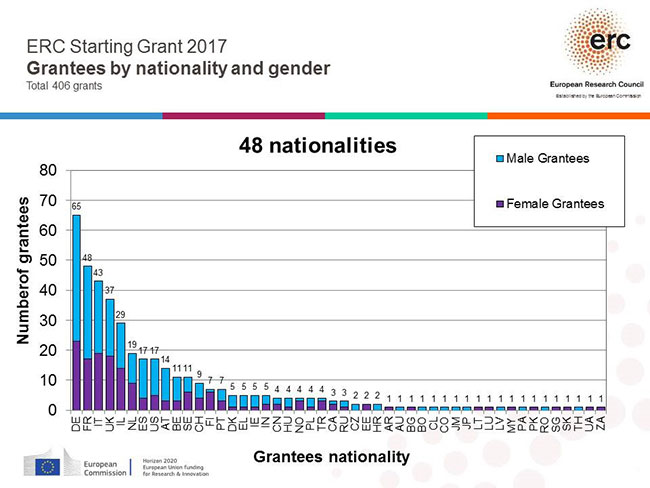 This time around, some 40% of grantees are women, and female applicants were more successful than men in securing funding (14.5% and 12.7% respectively). ERC grants are awarded to researchers of any nationality based in, or willing to move to, Europe. The grantees will be hosted in 23 countries across Europe, with the United Kingdom (79), Germany (67) and France (53) as top locations. This year's competition counts 48 different nationalities amongst the grantees – the highest number since the establishment of the ERC.  Forty-five grantees are non-European nationals, of which many already based in Europe; this includes 17 Americans. This time, 18 researchers are moving to Europe to carry out their ERC-funded projects; amongst them there are 13 returning Europeans. The ERC received 3,085 proposals in this call of which around 13% was funded.
These Starting Grants will help the selected researchers to build their own teams, potentially engaging more than 1,500 postdocs and PhD students as ERC team members. The funding therefore contributes to supporting a new generation of top researchers in Europe.
List of all selected researchers by country of host institution (alphabetical order within each country group)
Lists of selected researchers by domain (in alphabetical order):
Statistics – ERC Starting Grants 2017
Note to the editors
ERC Starting Grants are awarded to researchers of any nationality with two to seven years of experience since completion of the PhD (or equivalent degree) and a scientific track record showing great promise. The research must be conducted in a public or private research organisation located in one of the EU Member States or Associated Countries. The funding (up to €1.5 million per grant) is provided over up to five years. Two thirds of the ERC budget is earmarked for the early-career researchers – the Starting Grant and Consolidator Grant schemes -  and calls for proposals are published once a year for each scheme.
About the ERC
The European Research Council, set up by the European Union in 2007, is the first European funding organisation for excellent frontier research. Every year, it selects and funds the very best, creative researchers of any nationality and age, to run projects based in Europe. The ERC has three core grant schemes: Starting Grants, Consolidator Grants and Advanced Grants. An additional funding scheme, Synergy Grants, has been re-launched in 2017.
To date, the ERC has funded some 7,000 top researchers at various stages of their careers, and over 50,000 postdocs, PhD students and other staff working in their research teams. The ERC strives to attract top researchers from anywhere in the world to come to Europe. Key global research funding bodies, in the United States, China, Japan, Brazil and other countries, have concluded agreements to provide their researchers with opportunities to temporarily join ERC grantees' teams.
The ERC is led by an independent governing body, the Scientific Council, led by the ERC President, Professor Jean-Pierre Bourguignon. The ERC has an annual budget of €1.8 billion for the year 2017, which is around 1% of overall spending on research in Europe. The overall ERC budget from 2014 to 2020 is over €13 billion, as part of the Horizon 2020 programme, for which European Commissioner for Research, Innovation and Science Carlos Moedas is responsible.
This year, the ERC celebrates its tenth anniversary: see summary of achievements.