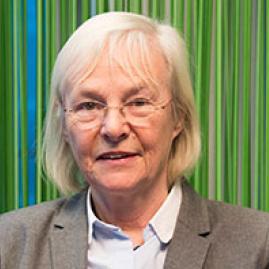 Current position:
Current position
Emeritus director of research in the CNRS and professor at the Pasteur Institute, Paris
Margaret Buckingham is a developmental biologist. She is interested in how naïve multipotent cells acquire tissue specificity during embryogenesis, studying the formation of skeletal muscle and genes that control cell fate choices. Her research extends to the stem cells of adult muscle and their maintenance as reserve cells, poised to function in muscle regeneration. She has also worked on the formation of the heart. Her lab identified a second major source of cardiac progenitor cells in the embryo, with biomedical implications for congenital heart malformations. 
She was educated in Scotland and at Oxford University where she obtained B.A., M.A. and D.Phil. degrees in Biochemistry. She then joined François Gros at the Pasteur Institute where she began working on muscle cell differentiation. After this postdoc training she obtained a position in the C.N.R.S. and became group leader at the Pasteur Institute. She was subsequently appointed professor and was director of the Molecular Biology and then the Developmental Biology departments.
She was President of the French society of developmental biology, chair of the CNRS study section for developmental biology, and is currently a member of the scientific council of INSERM and of the French national ethics committee. She has participated in international scientific advisory boards, including for the Max Planck Society, MRC and RIKEN, and is chair of the scientific committee of the Leducq foundation and of the cell biology section of Academia Europaea. She was a member of EMBO Council and until recently of the ERC Cell and Developmental Biology panel for senior grants. 
She is a member of the French Academy of Sciences, a foreign/honorary member of the Royal Society of London/Edinburgh and a foreign associate of the National Academy of Sciences of the USA. She is an officer in the Ordre National du Mérite and in the Ordre de la Légion d'Honneur. In 2013 she was awarded the gold medal of the CNRS. She has British and French nationality and is married, with three children.
Mandate ERC Scientific Council: 01 Jul 2015 - 31 Dec 2021 (2nd term).