| | |
| --- | --- |
| | Pint of Science, a non-profit initiative created in 2013, is the world's largest and most international science festival, covering all areas of research, from astrophysics to physiatry. Seven themes are shared by all Pint of Science festivals worldwide: Beautiful Mind, Atoms to Galaxies, Our Body, Planet Earth, Tech Me Out, Our Society and Creative Reactions. In the 2019 edition in Belgium, 76 events were held gathering more than 150 scientists for English, French or Dutch talks in 15 Belgian cities. |
Belgium based ERC funded researchers and research team members hosted sessions in bars across several Belgian cities: Brussels, Gent, Leuven, Hasselt and Louvain-la-Neuve. We report from two such events, featuring neurobiologist Pierre Vanderhaeghen from ULB, Kristien Hens, bioethicist working at the University of Antwerp, and Dominic Bowman, astronomer and member of an ERC-funded team at KU Leuven.
What makes the human brain unique
On May 20, the first evening of the festival started at KFK hope with an exciting talk from Pierre Vanderhaeghen, who answered the question of what makes our brain unique, compared to our primate relatives. Although our brain still holds many secrets, Prof. Vanderhaeghen was able to unravel the complex human brain in an interesting and accessible way, and gave us an insight into the very diverse technologies used to tackle this question, from human genomics, to stem cell biology, to neural circuit studies.
Related ERC Story: How did human brains get so large
Best of European Science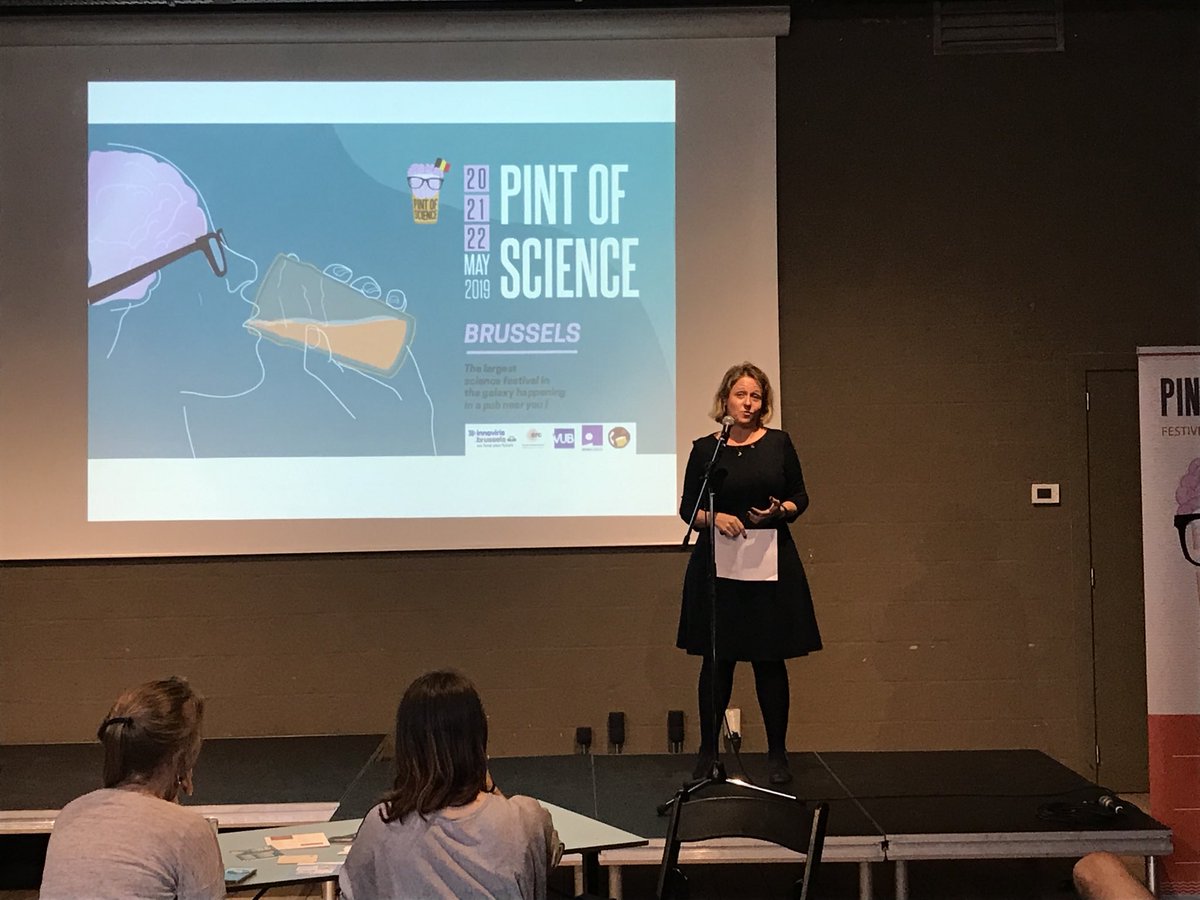 During the second night of the Pint of Science festival on May 21, ERC Scientific Officer Dr Ino Agrafioti moderated the Best of European Science night at Viavia Café in Brussels, featuring three ERC grantees and a member of an ERC-funded research team.
Music of the stellar symphony
Postdoctoral researcher Dominic Bowman gave us a fascinating talk about the music of the stellar symphony, linked to his work in the Mamsie research team led by Connie Aerts. Dr Bowman explained that stars are the building blocks of galaxies in the universe. We also learned that star quakes cause their surfaces to twinkle and shimmer. Astronomers use this phenomenon to study what is going on inside them, similarly to how geologists study earthquakes. From pulsars to even our own star – the Sun – there are many different types of pulsating stars in the universe, each providing a different piece of the puzzle to understanding the cosmos.
What epigenetics tell us about moral responsibility
The same evening, bioethicist Kristien Hens offered an intriguing talk about what epigenetics tell us about moral responsibility. She explained that some conditions are traditionally conceptualized as innate or acquired, but that findings in the field of epigenetics indicate that the social and physical environment influence how genes are expressed. This leads to a far more complex and nuanced view of psychiatric disorders, for example.
Many pub-goers came to see the ERC researchers explain their work, showing that people do like to discuss research with scientists who carry it out – and that they welcome a more casual setting.