In a post-truth, expert-dismissing era, how can we ensure government policies are derived from evidence based information? The European Science-Media Hub was set up by the European Parliament for this very reason, to help with science communication and bridge the knowledge gap between science policy makers, researchers, and journalists.
The ultimate aim is to provide sound information from trusted sources - such as academia - for the benefit of policymakers - such as Members of the European Parliament (MEPs) - and to inform EU citizens. It also works in parallel to tackle the flow of fake news and misinformation.
ESMH
The European Parliament's  group for the future of science and technology (STOA) , launched the European Science-Media Hub (ESMH)  at the end of 2017. The ESMH's main aim is to help the various types of science communicators and policymakers by providing a  platform for dialogue and learning. 
Networking, training and knowledge dissemination are the ESMH's main tools. The Hub looks to spread knowledge about science and science communication by organising seminars, conferences, and training courses related to current scientific and technological developments.  
Working with researchers
To this end, in early February 2019, a group of ERC grantees and MEPs met at the European Parliament in Brussels for a seminar  on 'Investing in researchers, shaping Europe's future' . They discussed the latest findings and policy in the trending research areas of smart agriculture/food, migration/demography and CRISPR. The get-together was an occasion for ERC funded researchers to showcase their project results to an audience of policymakers, fellow scientists and journalists; and also for the MEPs to explore how Europe's future can be shaped by fundamental research.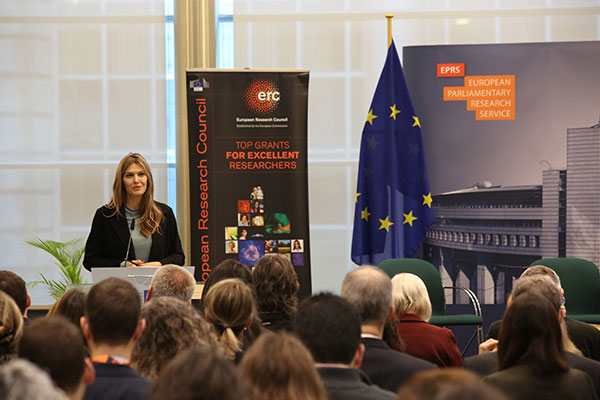 MEP and STOA Chair Eva Kaili at ERC-STOA-ESMH event on 7/2/19
Examining how science is communicated
As well as connecting researchers with policy makers, the ESMH also focuses on the nature and effectiveness of science journalism. The hub publishes a science media review on a fortnightly basis, and analyses traditional and social media, as well as academic journals, to help interested parties quickly identify the scientific topics of the moment.
However the Hub does not just "watch" what is being communicated about science and research - it also aims to respond online, as Svetla Tanova-Encke , manager of the ESMH explains: "We mean to become a trusted source of information in the field of science and new technology, with a focus on European research. However, we do not just communicate on new technological developments: we also apply them. Our idea is to use media monitoring and data analysis tools to identify the most popular scientific topics, possible controversies -  or even misinformation being circulated - and offer evidence-based information in response". With this in mind, the Hub recently organised a training workshop for journalists and scientists on "Tackling disinformation and misinformation in Science". 
The ESMH will also leverage the interplay between science and new technology on 3 April 2019 when they will hold an event at the European parliament in Brussels on viral social media posts. 
EU institutions on board
The European Parliament's ESMH is headed by an interinstitutional advisory board, which includes representatives from STOA , the ERC, the European Institute of Innovation & Technology (EIT) and the European Commission: the Directorates General for Communication, Research and Innovation, Communications Networks, Content and Technology as well as the Joint Research Centre.