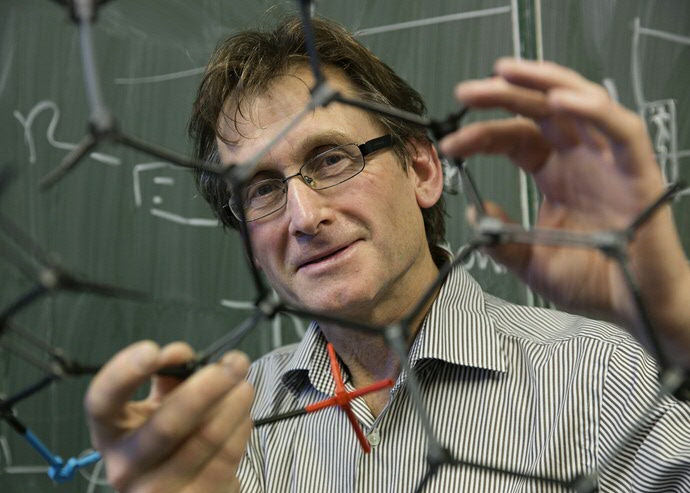 The European Research Council awarded Professor Bernard Feringa, based at the University of Groningen in the Netherlands, the prestigious ERC Advanced Grant in 2008 and 2015 for his projects exploring nanomachines and molecular motors. He won his first ERC grant in 2008, competing with over 2,000 leading scientists from around Europe and beyond, in the ERC first ever Advanced Grant call, in which nearly 300 researchers were funded.
The world's smallest machines
Bernard Feringa is the pioneer of rotary molecular motors - machines that work like motors that we know from everyday life, except that these motors are the size of individual molecules. Professor Feringa had developed the structure of these minuscule motors before he received his first ERC grant. In his ERC-funded projects, Professor Feringa has moved on from studying and developing the structure of the motors towards dynamically controlling their actual function and integrating them into entire molecular structures. This will enable the development of molecular nanomachines such as nanorobots. These can respond to stimuli from their environment, be employed in the self-assembly of nanostructures or regulate DNA transcription. In the future, this could be used in the medical field for instance to find tumour cells, and remove them, or precisely administer drugs to tackle the problems associated with antibiotic resistance.
Two ERC Advanced Grants
Total ERC funding for both grants since 2008: € 4.6 million
Project Advanced Grants 2008: Molecular motors - Controlling movement at the nanoscale (Molecular motors) 
Project Advanced Grants 2015: Molecular Motors, powering dynamic functional molecular systems (MMDYNASYS)
This award follows that of five other ERC grantees:
In addition, the ERC has funded several researchers who were already Nobel Prize laureates when they won their ERC grants.
See also press release: Nobel Prize in Chemistry: ERC President congratulates laureates