Tech-filled tattoos to interact with the surrounding world
The increasing development of wearable technology sparks the need for new, innovative ways to interact with our shiny gadgets. Deviating from the conventional approach based on touch-sensitive devices, Prof. Jürgen Steimle aims at producing body-worn user interfaces that can be applied directly on the skin. Highly personalised, biocompatible and ultrathin, these devices will seamlessly blend with the human skin to create a technological extension of our body.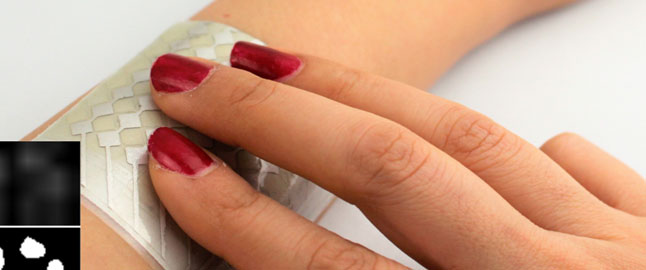 Photo credit
Pictures and portrait: © Saarland University, HCI Lab
In recent years a consistent part of human interactions have moved to the cybernetic realm. An average smartphone user touches the screen thousands of times per day. We are in constant need to interact with our devices, and through them to connect with the rest of the world.  We have all experimented how, at times, this might be unnatural and annoying. Imagine being able to control your smartphone (or your car, doors, or robotic butler) with simple natural gestures, like tapping on your ear, or waving your hand. This is the goal pursued by a research team at Saarland University led by Prof. Steimle, who was awarded an ERC grant to push the frontiers of how we interact with machines.
Sensing tattoos
Their novel approach is to devise stretchable and bendable layers of conducting wires and sensors, and to embed them in thin patches as highly customisable tattoos. They can be applied to the skin, following the natural body landmarks and allowing free movement, thanks to their elasticity and thinness (around 5 microns, less than a human hair).
Different sensors can be applied to different body-parts, tailored to the elastic and topological properties of natural skin. After investigating the habits of a sample of young volunteers, Prof. Steimle's group decided to focus on four main types of interaction modes: touch, bend, squeeze and display. For each of them, a dedicated sensor scheme has been developed, allowing novel unexplored ways of controlling devices, in what can go much beyond the usual finger-tapping experience.

Various types of input and output components can be realized on rub-on tattoos: (from left to right) capacitive touch sensors, squeeze sensor, bend sensor, light-emitting display.
Personalised solutions
"Easy, do-it-yourself, solutions can also be developed, to allow users to design and print their own wearable sensors"
says Prof. Steimle. An easy software and hardware scheme would allow creative users to design, customise and print their cool tattoos by themselves. The printing only requires a normal ink-jet printer, and a special conductive ink. The device can be impressed on temporary tattoo paper, and after some heating, necessary to activate the ink, applied to the skin. As of today, the whole procedure is quite inexpensive, about 20€ excluding the printer itself, but it is predicted to become even cheaper with a higher production rate.  
Speaking of surprising applications, displays can be produced by using a special ink that is electroluminescent, and hence emits light when current passes through it.  This technology can be used to enhance existing 3D objects in a highly customisable way: for example by transforming the wristband of your old watch into a notification screen for messages and calls.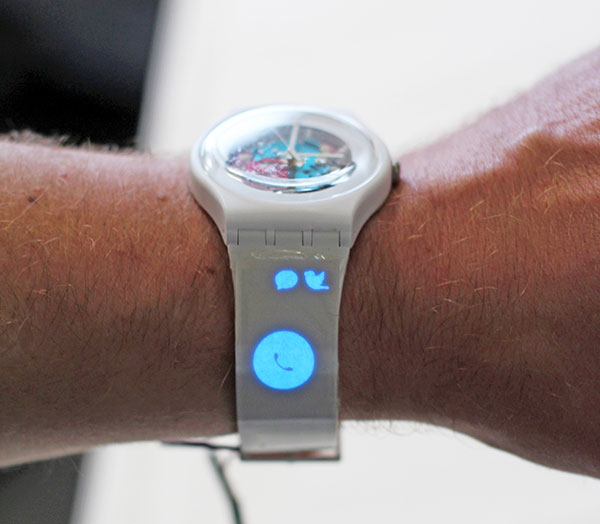 A flexible touch-sensitive display, printed with customized shape and content, enhances a traditional wrist-strap with interactive functionality.
New ways of controlling machines
This research work opens up the possibility of developing entirely new-concept devices that base their functionality on the interaction with the body with a strong impact on the next generation of human-computer interface. 
Applications can be used in medical monitoring and rehabilitation and can be of capital importance for people with reduced mobility, for example. 
A new futuristic reality appears to be within touching distance!
 
Jürgen Steimle is Professor of Computer Science at Saarland University (Germany). His research interests lie in wearable end embedded user interfaces, flexible sensors and displays, and digital fabrication. He received his PhD in Computer Science from TU Darmstadt. Prior to joining Saarland University, he held positions as Visiting Assistant Professor at MIT and Senior Researcher at the Max Planck Institute for Informatics.
 
Project information
InteractiveSkin: Digital Fabrication of Personalized On-Body User Interfaces
Researcher:
Jürgen Steimle
Host institution:
Universitat des Saarlandes
,
Call details
ERC Funding
1 496 382 €