On 11 June, an ERC delegation hit the road. Direction: Bucharest, Romania. Their final destination was the University of Bucharest, where Romanian scientists, funding bodies and representatives from several of the country's institutions met to learn more about ERC funding and discuss what's next for the ERC in Romania.

Romania has an estimated 2.6% success rate in ERC calls in the EU's Horizon 2020 funding programme. Six researchers are based at host institutions in Romania, but only 641 applications were received up to 2018. Understanding why researchers from this country aren't applying in larger numbers is paramount, this was the message offered by ERC Scientific Council member Andrzej Jajszczyk in his opening remarks.
The aim of this event was to open to floor to researchers and research institutions in the country, some of whom were meeting for the first time. The future of the ERC in Romania was discussed in a roundtable panel with Prof. Balint Marko, Vice-Rector of Babeș-Bolyai University in Cluj-Napoca, Prof. Valentina Sandu-Dediu, Rector of the New Europe College, Prof. Tudor Prisecaru, Vice-Rector of the Polithnica University of Bucharest and Prof. Laurențiu Leuștean, Vice-Rector of the University of Bucharest.
Many of the researchers and university staff present gave their views, pointing out some structural barriers to applying. One challenge highlighted is that many researchers are involved in a lot of teaching hours, dedicating little time to actual fieldwork. Others are hesitant about applying, citing the competitive nature of ERC grants.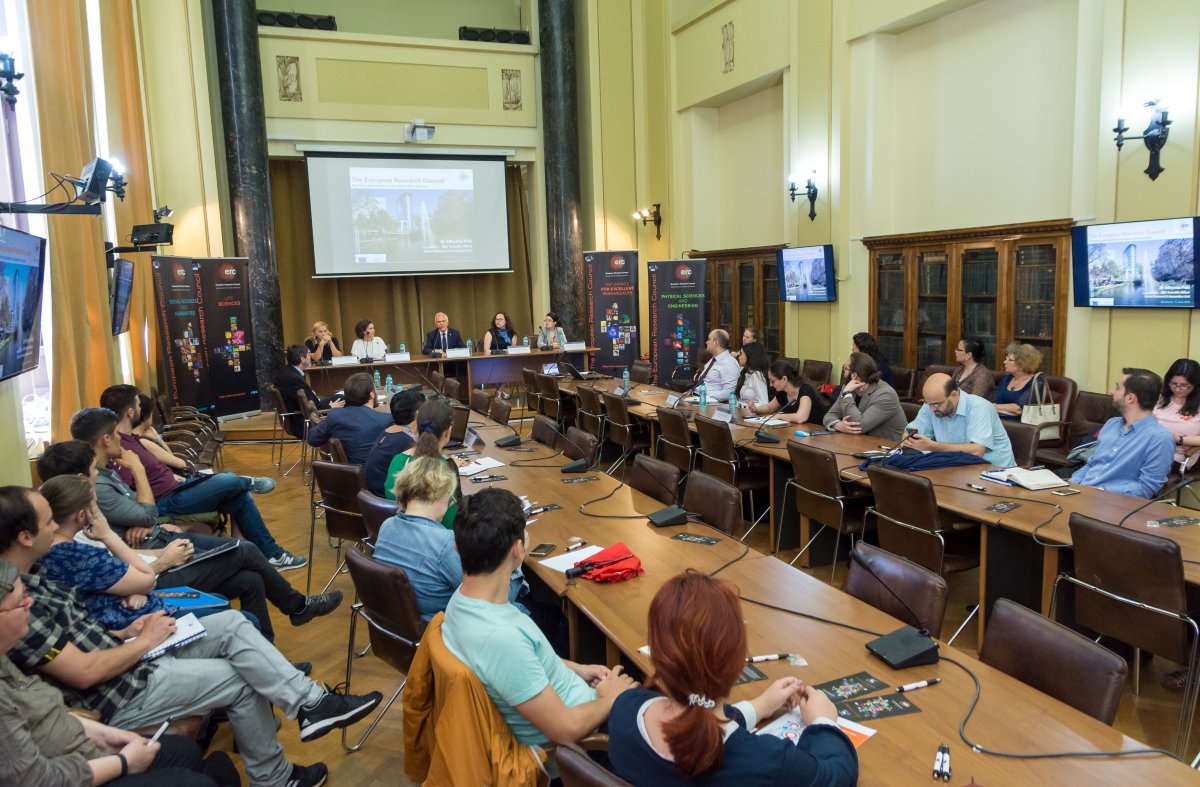 Getting access to accurate and correct information about the ERC grant process had been another of the issues raised when the meeting was initially conceived. For this reason, experts from the ERC's scientific department and grant management department came to present the steps to follow when thinking about applying for a grant. Participants were able to ask about ERC opportunities, the application process, and the administrative procedures involved in managing a grant.
This information can also be found on the ERC website - the first place to look for when considering where to begin in order to apply. Three documents are particularly important:
The ERC's Work Programme, which is published yearly and presents the budget of the calls, as well as other useful information for applicants (such as eligibility criteria and important dates to remember),
The Information for Applicants, with more details about the actual application structure, composition of panels and panel descriptors,
The Guide for Peer Reviewers, highlighting the criteria that evaluators must keep in mind when considering an application.
Another important point of call should always be the National Contact Point – a person (or more than one person in some countries) who can help potential applicants in their own country. Romania has two: Elena Dinu from the Ministry of Education and Research, and Andreea Fazacas from the Institute of Atomic Physics. Andreea Fazacas was present at the event, speaking her team's offer in terms of support to researchers writing ERC applications.
More information about the National Contact Points in Romania and other countries can be found here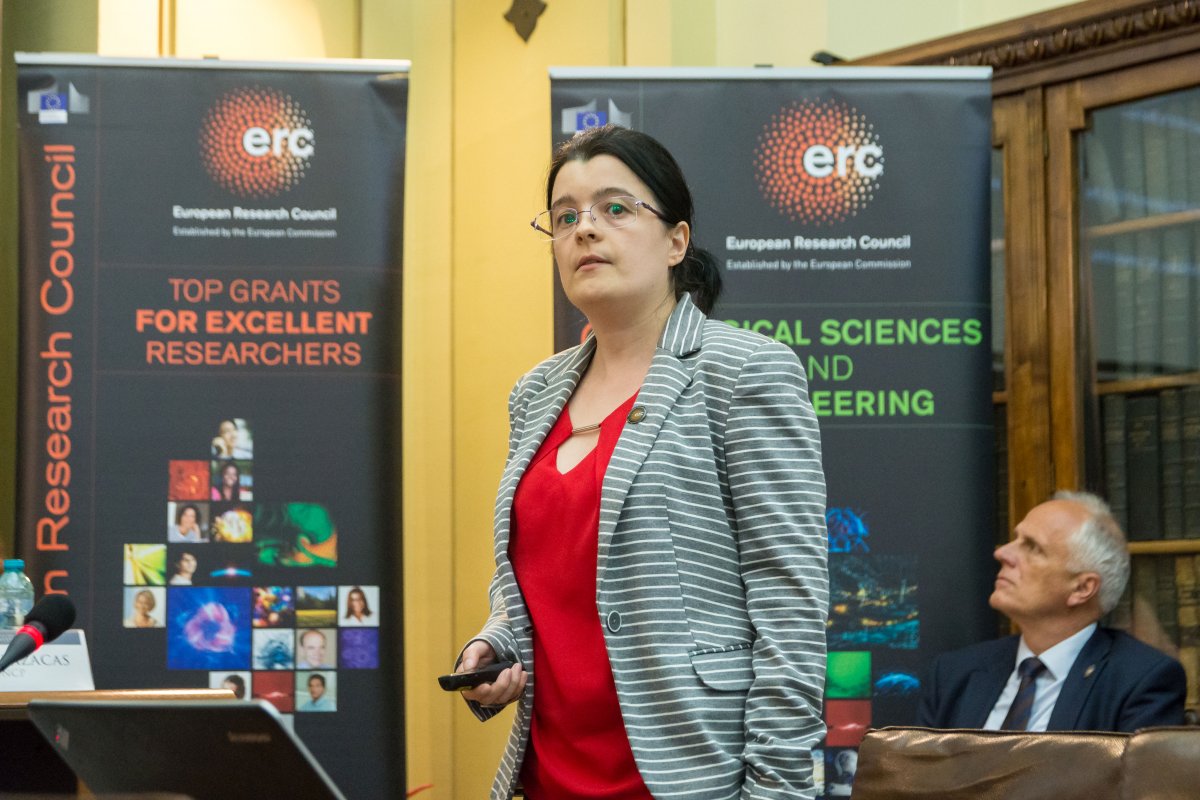 Of the six ERC grantees hosted in Romania, four were present on the day. Not only to share their experiences and encourage others to apply, but to get to know potential applicants. A lot of researchers, in fact, are unaware that one of the easiest things to consider when applying, is getting in contact with someone who already went through the granting process. Whether successful or unsuccessful, learning from each other is a good start.
Alina Badescu was the first to talk about her grant. A physicist from Politehnica University, she received her Starting Grant in 2016.
(But) I guess that my idea was considered valuable, and evaluated because of its originality"
Ada Hajdu was surprised when she got her grant in 2018. She thought her list of publications was short, after many years spent lecturing classes of undergraduate students.
Ionut Epurescu-Pascovici, who got his Starting Grant in 2014, encouraged potential applicants to seek help from their institution, saying that the support provided by the University of Bucharest was pivotal in receiving a grant, and also in subsequently managing the money and the reporting requirements.
"Past proposals are not public, but what's the harm in asking someone for help? Most of the time you'll be surprised with the reply".
Finally, Costin Raiciu talked about helping future applicants, and coaching researchers through their application writing and interview mock-ups. To applicants he would advise to just ask for support.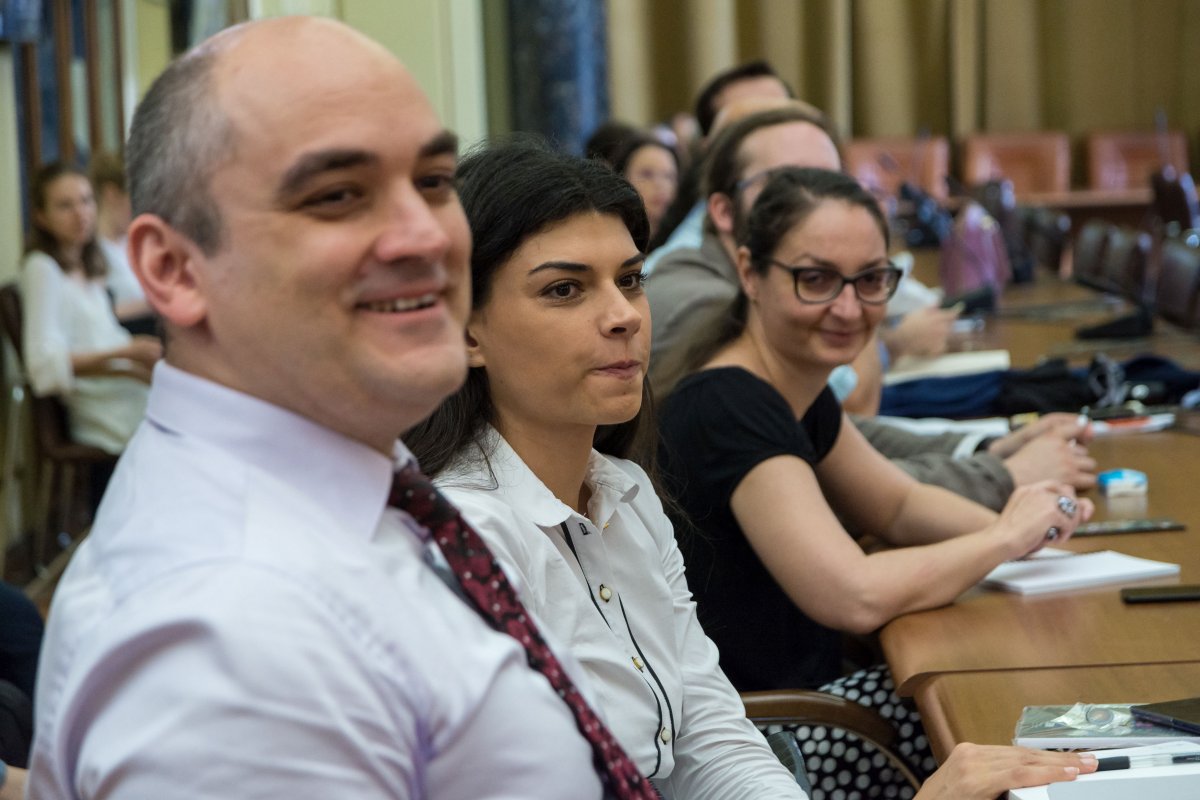 The message throughout the event was clear. If you do not apply, the answer will always be negative. Many misconceptions may hinder applicants. Contrary to what one may think, the applicant's publication record is not decisive in selection decisions, the host institution isn't an evaluation criterion, and the success rate is virtually flat for researchers with different numbers of years of experience (throughout the Starting and Consolidator Grant eligibility window). Seeking information and advice before deciding whether or not to apply - and also during the application process - can really help. The European Research Council will continue visiting countries around the EU, trying to learn about what could encourage the best researchers to apply with their best ideas and succeed in its calls.