From Europe to China: 13,000km pioneering expedition with driverless vans led by an ERC grantee reached end goal
Prof. Alberto Broggi's "Intercontinental Autonomous Challenge" has arrived at its final destination after a 13,000 km trip across two continents.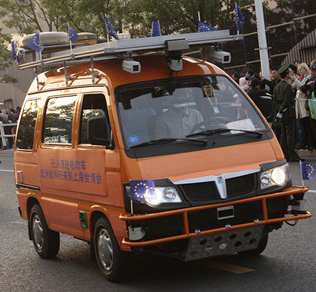 This ERC-funded research represents the most advanced challenge ever organised for autonomous vehicles. Puzzling pedestrians and local traffic police alike, the convoy with the driverless van finally reached the EU/Belgian pavilion at the World Expo in Shanghai on the 28th of October. They made it to the populous Chinese metropolis after successfully completing the epic test drive which departed on the 20th of July from Milan, Italy.
This initiative is led by a researcher from Parma University, Prof. Alberto Broggi, who was awarded a prestigious Advanced Grant from the ERC in 2008 for his project OFAV (Open intelligent systems for Future Autonomous Vehicles).
The endeavour is unique in that it has put autonomous driving to the test in real life conditions across two continents in varied environments, including extreme ones, and with very limited human intervention. Also, the vehicles were powered by "green" energy.
This technology can improve road safety in the future and has many other potential fields of application.
The endeavour was a way to conduct experimental tests on sensing, decision, and control subsystems, and to collect data.
You can take a glimpse at the expedition's arrival in Shanghai through the photos and videos posted below.
Photos in high resolution ( 200 MB) and Video (300 MB)
Project information
Open intelligent systems for Future Autonomous Vehicles
Researcher:
Alberto Broggi
Host institution:
Università Degli Studi Di Parma
,
Call details
ERC Funding
1 751 067 €