Tactile Displays of the Future to feel information
We are more and more accustomed to interacting physically with technology - using touchscreens for example. We now routinely "thumb-flick" through information on our phones or tablets rather than pressing keys. For Professor Sriram Subramanian and his team this kind of technology needs to be pushed beyond a flat interaction with the screen beneath our fingers - instead we should be able to feel what we are currently touching. Only by doing so can we fully interact with the information we are accessing.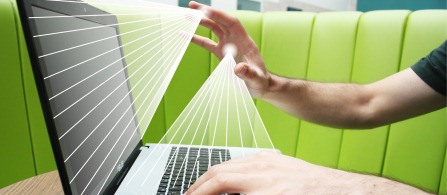 Photo credit
Portrait: Matt Sutton, © University of Bristol
The concept underpinning this is known as haptic feedback: the ability to "feel" and manipulate objects through our sense of touch. Professor Subramanian's ERC project is a revolutionary exploration of the future possibilities of touchable technology. The work in his lab is multi-faceted - encompassing everything from touchless, floating displays to sensory bubbles. Prof. Subramanian presented his research at the World Economic Forum Annual Meeting of the New Champions in Tianjin, China and will be at the Genoa Science Festival (Italy) this month.
He is a veteran of demonstrations, having presented the practical possibilities of his haptic technology to a wide variety of audiences from fellow scientists to potential investors: "Audiences are always surprised to discover that we have something concrete to demonstrate to them - they are expecting the technology to be purely theoretical. With our latest technology, SensaBubble, which uses sensory information delivered in airborne bubbles, there is an added novelty value - it has the entertainment factor as well as scientific significance. It has potential for both education and gaming applications."
The science of touch
Behind all of these innovations lies a shared aspiration: to harness the rich sensory possibilities of touch to improve our relationship with the technology we use everyday. The ambition is that a sea change in technology will lead to interactions that come naturally to us without the need to learn to use the technology. This means for example that medical students could concentrate on key surgical techniques, rather than on the medical device interface itself. Similarly, car drivers could focus on a safe and pleasurable driving experience rather than worrying about the dashboard controls. New display devices developed in this project will multiply the possibilities for applications of the technology: particularly in terms of teaching aids and in-vehicular interfaces.
Prof. Subramanian and his team are attempting to create displays we do not have to touch. We could feel and interact with these displays without entering in contact with them: the objective is to turn flat 2D information into "feelable" 3D interactions. The haptic technology they are developing is designed with multiple users in mind - each able to receive their own individualised "feelable" feedback from the screen. This technology is game changing not only because it will provide the user with customised feedback, but also because the information is generated with minimal interference: you can be as close as 3cm or as far as 2m, and you do not have to wear gloves or use special equipment in order to interact with the screen.
Interactive workstations
One particular facet of this research is the "MisTable" technology. Prof. Subramanian explains: "The "MisTable" technology relies on creating a see-through and reach-through environment in which the user can interact with the tabletop - reaching through the mist to proactively interact with both the tabletop and the space above it to receive tactile feedback as they learn."
The idea of "SensaBubble" came from a table tennis game: could information be projected in 3D rather than on a flat screen, and why not on a bubble? SensaBubble produces bubbles filled with fog delivering information to users through in two ways: visuals are projected on the bubble and scent is released in the air when the bubbles burst, creating a multisensory experience.
The ERC funding has not only enabled the team to pursue their ambitious blue-sky research but also to attract talent. Prof. Subramanian's international team is larger than initially anticipated because "we have had the freedom and flexibility to follow the science without external pressures", he says.
"We try to combine good science with creativity and inspiration in order to further enhance the research we do," notes Prof. Subramanian. The project has produced a spin-off company, Ultrahaptics, and the technology has been sold several universities in order to further develop the tools for supporting learning. Ultrahaptics is enabling the scaling up of the technology and allowing the team to explore further entrepreneurial possibilities.
The recent receipt of an ERC "Proof of Concept" grant will allow the team to improve the perceptual quality of the tactile feedback whilst making the system noise free. The team will also use the "Proof of Concept" grant to demonstrate the technology at trade shows in order to help grow the spin-off company.
Project information
Interactive Systems Involving Multi-point Surfaces, Haptics and true-3D displays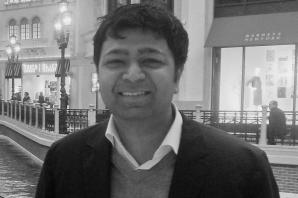 Researcher:
Sriram Subramanian
Call details
ERC-2011-StG_20101014, PE6
ERC funding
1 419 636 €